At Smith Rock State Park in central Oregon, enormous red rocks tower over the river below.
But these huge volcanic formations draw people for more than the spectacular sight jutting out of the high desert. A quick glance reveals multi-colored spots moving here and there all over the rocks. Look closer, and you realize that oh-my-gosh, those are people clinging high up on the rock face.
Welcome to the birthplace of sport climbing in the USA.
The Bend-Redmond area in central Oregon is the fourth-fastest growing region in the country, with about nine people moving there daily. The data doesn't say how many of the newbies are rock climbers, but Bend's healthy outdoor lifestyle is certainly a draw for both tourists and those permanently relocating. The setting in the high desert promises more sunshine than visitors expect to find in a notoriously green and rainy state.
Exploring Downtown Bend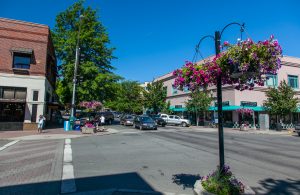 Incorporated in 1905, Bend is a fairly new town. Its name comes from the nearby Farewell Bend Ranch that predated the town's founding. Apparently the post office decided that simply "Bend" was more concise. Bend's cute and walkable downtown still holds many century-old buildings, now repurposed as boutiques, cafes and outdoor stores. The Tower Theater, built in 1940, now features concerts, comedy and live theater. Crow's Feet Commons is a magnet for outdoorsy types. You can get your ski boots fitted, check out custom mountain and road bikes and sample a selection of Oregon beers while chatting with other people who love skiing and biking.
Trail Running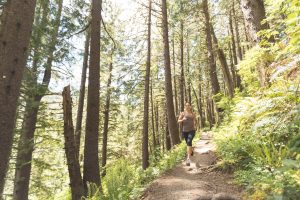 Running is one of the easiest sports to participate in while traveling, since you just need your running shoes and workout clothes. Bend is proud that Outside magazine dubbed it "America's Best Trail Running Town." Bend Metro Parks & Recreation maintains 51 miles of in-town trails. The three-mile loop along the Deschutes River Trail starting at Farewell Bend Park is especially scenic. Except for some houses, you'll feel like you're out in the woods, not in a fast-growing city.
You can connect with local runners and pick up trail maps at FootZone, a popular running shoe store that sponsors races and other running events. Contact the Central Oregon Running Klub or Central Oregon Track Club if you enjoy group runs.
Rock Climbing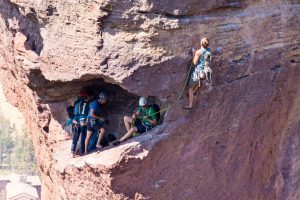 Climbers from around the world travel to Bend to tackle formations in nearby Smith Rock State Park. The 651-acre park includes enormous volcanic rocks, eroded by wind and water into interesting spires, and offers everything from beginner routes to extremely challenging climbs.
Successful rock climbing requires skill and a lot of equipment. Newbies need good instruction to figure out how to attach harnesses, carabiners and safety ropes and how to determine the best route up a rock face. Several local schools offer day-long courses teaching footwork, belaying, rappelling and other essential skills.
The beautiful, high-desert landscape makes Smith Rock worth visiting even if you have no desire to emulate Spiderman. You can walk up a steep trail to take in the views, or opt for the low-key path along the Crooked River.
Bring Your Dog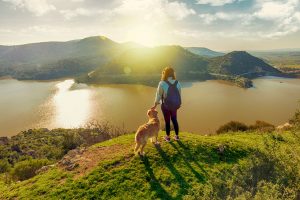 As well as priding itself on the trails and rock climbing, Bend is famously dog-friendly. Many hotels, shops, breweries and restaurants welcome Fido, or you can let him run in more than a dozen off-leash areas in national forests and city parks. There's even a spray park for water-loving dogs to play in sprinklers. Local outfitter Wanderlust Tours welcomes dogs on some of their canoe adventures. Be sure to outfit your furry companion in a flotation device made by the Bend-based company Ruff Wear.
Where to Eat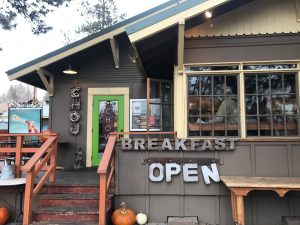 Of course, an outdoorsy town like Bend has many healthy and delicious places to eat. Next Level Burger, a Bend-based chain, offers plant-based burgers and vegan milkshakes. Joolz' slogan —"Where the Middle East meets the Wild West" — reflects Chef Ramsey Hamdan's upbringing in Beirut with an American cowgirl mother and Lebanese father. Chow specializes in big breakfasts in what feels like Grandma's cheery old house. Bonta Natural Artisan Gelato draws a crowd even in late autumn with inventive flavors like rainshadow mint chip and cranberry cognac sorbetto.
If You Go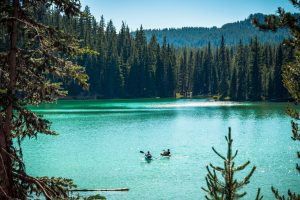 From Richmond or Norfolk, Va., you can get a connecting flight to the small airport in Redmond, Ore. If you want to combine your trip to Bend with a visit to Portland, you can fly to Portland and rent a car. Bend has a full range of accommodations, including McMenamins Old Saint Francis School, a converted 1936-era schoolhouse featuring a movie theater and Turkish bath. Riverhouse offers resort amenities and is beautifully situated on the Deschutes River, while the Historic Lucas House caters to the young, adventurous travel crowd.