Just before sunrise, scores of walkers and joggers follow the packed dirt trail around the perimeters of the 16th century Galle Fort in Sri Lanka, a few stopping to do pushups and other calisthenics in the grass. The views from the fortified fort walls are spectacular — turquoise waves, billowing clouds, old rock walls, stately white lighthouse. Soon the sun rises and the walkers slow.
By 8 a.m., this southwestern Sri Lankan city is humid and the sun is blazing. The fort, a UNESCO world heritage site within the city of Galle, morphs from an early morning exercise venue for locals to a place where visitors stroll the quiet, narrow streets amid old Dutch buildings, stopping to cool off in air-conditioned boutiques or to enjoy fresh juice at rooftop restaurants overlooking the sea. Here, in this exotic old trading port, it's not unusual to stumble upon a flute-playing snake charmer and his cobra.
Welcome to Sri Lanka, a teardrop-shaped island country just south of India and about 500 miles north of the equator. Its tropical beaches, hill trekking and ornate Buddhist and Hindu temples have long-attracted visitors. European travelers dominate — Sri Lanka is, after all, a long plane ride from the United States. But now is a good time to make the journey. The country's 30-year civil war ended in 2009 and travelers are now able to freely explore the whole country, including the predominantly Hindu north, access to which had been strictly controlled during the fighting.
Sri Lankan Hill Country
Sri Lankans are proud of their country, and they all seem to ask, "Have you been to Nuwara Eliya?" This British-influenced town is up in the misty, tea-growing hill country, where temperatures can be 30 degrees cooler. A beautiful train ride links the hill towns, passengers hanging out the windows to snap photos of the blue and red cars curving around bends in the track, framed by an explosion of greenery.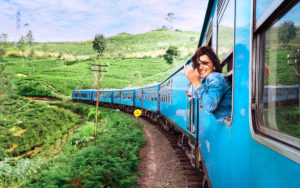 When the train stops at little Ella, the carriage nearly empties. Foreigners trundle out, weighted by enormous backpacks. Most are in their 20s, with a few middle-aged and seniors among them. Ella is a popular base for gorgeous hill country hikes because of the jagged mountains overlooking valleys of tea plantations. The sunrise hike up Ella Rock takes three to four hours. Hiring a guide is a good idea to help navigate the dark jungle and lack of signage.
The British brought the first tea plant from China to Sri Lanka (then Ceylon) in 1824, and the crop immediately dug in its roots. Tea lovers will enjoy a trip to one of the hill-country tea estates. Amba Estate grows organic tea, pepper, cinnamon, coffee and cloves and offers an extensive free tour followed by a paid tasting. Visitors can hire a three-wheeled tuk tuk — a motorized, modern-version of a rickshaw — from Ella for the one-hour ride through small villages to get to the rural estate.
Wildlife in Sri Lanka
In Sri Lanka, wildlife isn't contained in national parks. In a small grocery store in Kandy, Sri Lanka's second-largest city, the shopkeeper brandishes a broom to ward off simian shoplifters. "We have a monkey problem," he says grimly. At night, hordes of monkeys clatter across our hotel's metal roof, which backs to the jungle. The wildlife at Kandy Lake doesn't seem at all affected by the surrounding traffic-clogged road. Huge water monitors — native lizards — lounge on the banks while herons and cormorants fish from low-hanging branches.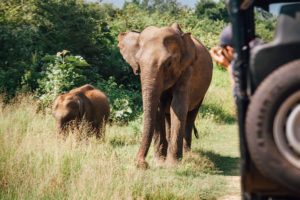 If you like your wildlife without honking buses, head to one of Sri Lanka's 22 national parks. Yala has a significant leopard population, while Udawalawe is rich with elephants. On a jeep safari in Wilpattu, we saw an elephant, crocodiles, deer, monkeys, land monitors, peacocks roosting in trees, purple herons, emerald-winged doves, ibis, jungle fowl and a crested serpent eagle eating a snake.
Culture of Sri Lanka
Sri Lanka is packed with opportunities to experience its very old culture, from the Temple of the Tooth in Kandy — which holds a sacred tooth relic of the Buddha — to Hindu celebrations in the north. Visitors who like to stay active will find that Sri Lankan culture can require exercise. Getting to the famous cave temples of Dambulla requires climbing several hundred steps in the blazing sun while dodging monkeys.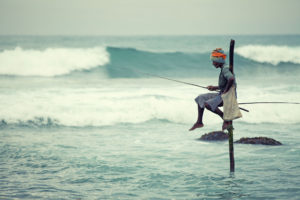 The ancient city of Anuradhapura in central Sri Lanka was founded around 380 BC and served as a political and religious center for 1,300 years. Many visitors opt to ride bicycles through the sprawling archeological complex. Those who'd rather skip the steamy bike ride can hire a tuk tuk driver to chauffeur them between ruins of temples and monasteries.
If You Go
No matter which route you take, it's a long flight from the US to Sri Lanka. Consider a stopover. If you fly Emirates, break up the trip with a stop in Dubai.
Sri Lanka is a small country, but the central mountains mean it has two separate monsoon seasons. Decide what you most want to see, then plan your trip around the best possible weather for that part of the country. Galle and the South coast are best visited between December and March.