A personal encounter with Puerto Rico's most famous dish.
A few months ago I catered a fundraiser and met a feisty Puerto Rican named Jose. As I prepped he tasted, and through his thick Puerto Rican accent described the foods he missed from the island. Jose missed mofongo the most. What a fun name, I thought to myself. I could almost picture Jose as a kid running through his abuelita's home yelling mofongo.
Jose described mofongo to me as Puerto Rico's answer to mashed potatoes. And it is usually topped with with some braised meat and vegetables. However I would learn with my first food encounter, at a food truck on the way out of San Juan that it can be served as an appetizer topped with sautéed seafood and vegetables.
"You should visit Puerto Rico and try it, Kim," he said.
"You know what, I will. And I mean it." And to escape the cold in February, I did.
Just 15 miles west of San Juan, I found what looked to me like a legitimate restaurant, a shack complete with outdoor seating, a stage, and a menu that included, lechon, rice with pigeon peas, and mofongo. Alavara is an institution of sort. A place where locals flock to and tourists are curious about. You can count on friendly service, good food, and a long wait—a way to rack up your bill with a few rounds of Medalla, a local beer.
"The mofongo takes a little while," our server warned. But I assured him that I was vested. But after two rounds of Medalla, and the carbs filling me up, I decided to peek in on the kitchen to watch the process.
Everything is made from scratch, a la minute, in this kitchen. I understood that the plantains couldn't be peeled or sliced ahead because they will brown. And because they're deep fried before they're smashed by hand, well, another reason it can't be done ahead of time either. I have a new appreciation for my mortar and pestle, which is called a pilón in Puerto Rico. The relleno sauce, which is a tomato and pepper puree, was done ahead of time, but the shrimp, octopus, and vegetables are cooked to order.
The mofongo turned out to be equally distinctive and enjoyable—the perfect introduction to Puerto Rico. The plantains to what I imagined weren't sweet—somewhere in between a potato and a sweet potato. While my palate was trying to decipher the flavors, every bite was a beautiful fusion of Afro-Caribbean, and Latin influences that exuded the visions that I had of Puerto Rico.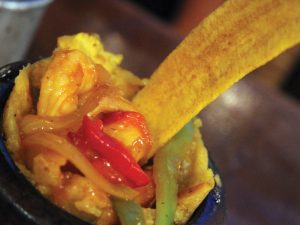 MOFONGO
2016-05-27 07:31:13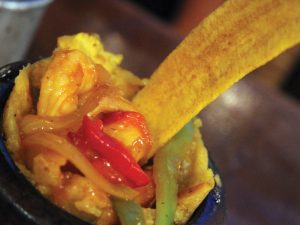 Ingredients
Vegetable oil, for deep frying
4 green plantains, peeled and cut into 1-inch chunks
4 cloves garlic
1 teaspoon kosher salt
1 cup chicharron or crisp cooked bacon
¼ cup good-quality olive oil
Instructions
In a heavy skillet, heat 3 inches of vegetable oil over medium-high heat to about 350 F. Line plate with paper towels.
2. Fry the plantains in the hot oil until golden brown, about 5 minutes. Using a slotted spoon, transfer the plantains to the paper towel-lined plate to drain.
3. In a large pilón, mash 1 of the garlic cloves until very mushy. Add one-quarter of the plantain chunks and ¼ teaspoon of the salt and continue mashing. Add ¼ cup of the cracklings, drizzle in a little of the olive oil to add moisture, and keep mashing it until it is all very well combined and has formed a chunky paste. Press the pestle into the center of the mixture to form a hollow.
Health Journal https://www.thehealthjournals.com/