Cold winter days call for the warmth of a good bowl of soup. Instead of getting out the can opener, try making a pot for a healthy meal.
Chef David Miller, an instructor at the Culinary Institute of Virginia in Norfolk, says the best way to create a hearty and nutritious soup is to puree vegetables such as butternut squash or beets and use them to make a broth.
"It makes for a hearty richness without the fat," he says.
For beets, Miller says to simmer them in water until tender or roast them with the peel on followed by peeling them after they are cooked.
"Be careful when peeling them when they are hot. It is best to let them cool," he says.
Miller prefers to work with butternut squash because of its flavor and texture. Puree with a blender, food processor or emersion blender. Miller says an emersion blender is worth the investment if you plan to make soup frequently. "It keeps from having to pour hot liquids," he says.
To season vegetable stock, Miller recommends classic winter spices such as cinnamon, clove and nutmeg. Add an acid to beet stock, such as wine, vinegar or lemon juice.
Tracy Conder, owner and instructor of Nutrition Made Easy in Newport News, will substitute silken tofu for heavy cream when making a cream-based broth.
Store bought chicken and beef broths can be high in sodium. To make your own broths, Miller says to simmer two pounds of chicken or beef bones, periodically skimming off the top to keep the broth clean. "The more you skim the better the broth," he says. "Then strain it when done."
When adding different ingredients, he says it is best not to throw them in all at once, but a few at time.
"It is all about building flavors, such as sautéing the onion and celery before putting them in the liquid." He also recommends toasting the spices in the pot.
There is no better winter flavor than parsnips – sweet, aromatic and slightly peppery." –Chef David Miller
Conder adds flavor to soups by rubbing fresh spices in her hand before dropping them into the soup. She's also a fan of beans because they're high in protein and fiber and work well in almost any soup.
When preparing soup for storage it is important to cool it first. Dividing soup into shallow pans will cool it faster; then chill the entire batch within four hours.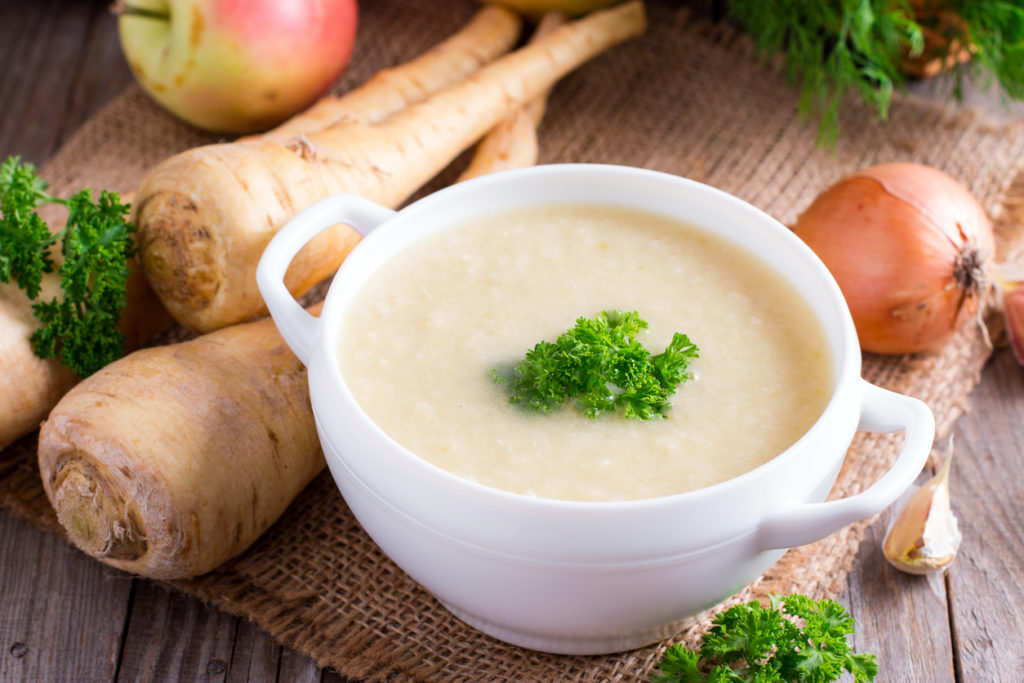 Hazelnut and Parsnip Soup
2019-04-09 08:40:27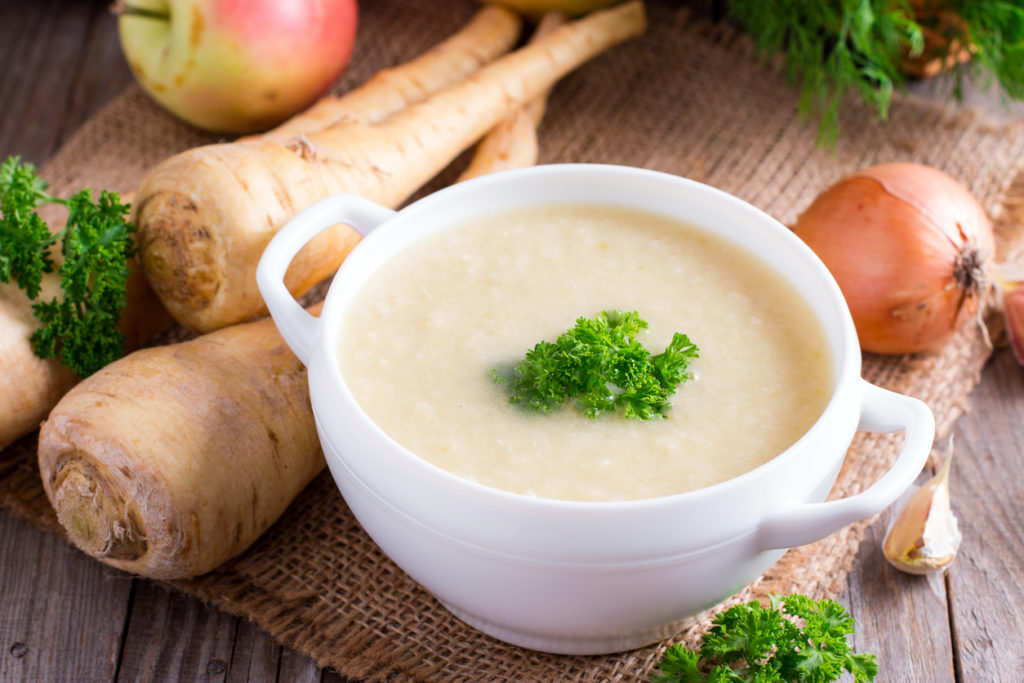 Ingredients
1 1/4 c. hazelnuts, peeled and chopped, coated with a few drops of oil and a pinch of salt. Toast in moderate oven until aromatic and deep in color (about 8 to 10 minutes)
2 shallots, minced (substitute one onion)
1 leek, whites only, sliced thin
3 parsnips, peeled and chopped
6 c. chicken or vegetable stock
1 c. heavy cream or low-fat half and half
Salt & fresh ground white pepper to taste
1 Tbsp. (or to taste) Frangelico liqueur (optional)
Instructions
In medium saucepan, melt butter and gently sweat shallots, leeks and 1 c. of the chopped hazelnuts till aromatic and tender.
Add flour and cook, stirring, about 1 minute.
Add parsnips and stock, bring to boil and simmer about 20 minutes or until vegetables and nuts are tender. Meanwhile toss remaining 1/4 cup hazelnuts with oil and a pinch of salt.
Toast in moderate oven until aromatic and deep in color. (about 8 to 10 minutes)
Puree to desired consistency in blender.
Add heavy cream, return to simmer and adjust seasonings to taste.
Ladle into bowls and garnish with Frangelico and toasted hazelnuts.
Health Journal https://www.thehealthjournals.com/