Most sane and kind humans would choose a product labeled "crueltyfree" over "cruel." But what's in a label? As people grow more aware of potentially harmful ingredients in consumer goods, clear labeling is key. Unfortunately, it's not so straightforward. According to the U.S. Food and Drug Administration, "the unrestricted use of these phrases by cosmetic companies is possible because there are no legal definitions for these terms." Ouch for both conscientious shoppers and bunnies.
People shopping for cruelty-free products are often concerned about the notorious LD50 and Draize tests done on animals to see whether cosmetic ingredients will irritate or blind a rabbit. Fortunately, these archaic tests are going out of fashion and independent labeling systems are helping consumers make kinder choices.
To Test or Not to Test
Companies never tested on animals just to be mean. Animal testing started as a sincere way to protect consumers from dangerous ingredients.
Researchers exposed animals – usually rabbits, hamsters, mice, rats or guinea pigs – to substances through inhalation, feeding, injection or application to eyes or bare skin. However, humans don't necessarily respond to substances in the same way as mice or guinea pigs. "Animal skin is different from humans. Animal testing is not only inhumane, but does not make sense," says Kelly Beckner, an independent consultant for the vegan cosmetic line, Arbonne.
But without animal testing, how can companies determine the safety of ingredients? For one, they can formulate products from ingredients that have already been tested and deemed safe. More companies are now using human volunteers and tissue and cell cultures, along with mathematical and computer models. The Humane Society International estimates that the number of test animals for personal care products has decreased 90 percent since the 1980s. But that still leaves an estimated 100,000 to 200,000 lab animals undergoing painful and grisly tests.
Testing regulations vary by country. China mandates that all products must be tested on animals. India, Israel and the European Union have enacted laws to limit animal testing.
Unofficial Certifying Bodies
Fortunately, several independent organizations have taken it upon themselves to vet products for cruelty. Consumers can identify products that pass the cruelty-free test by looking for these labels: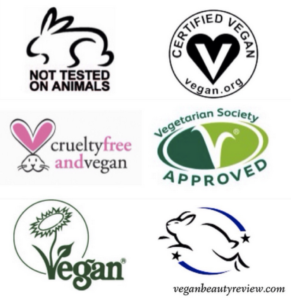 In 1996, eight leading animal protection groups joined forces to create the Coalition for Consumer Information on Cosmetics. To affix their rabbit logo to packaging, manufacturers must apply and verify a cut-off date for ingredients or products to be tested on animals, adopt an animal-testing policy verified by Cruelty Free International and allow independent audits.
Other groups that have implemented cruelty-free standards include PETA, the Vegetarian Society and the Vegan Society. Note that cruelty-free does not equal vegan and products that aren't tested on animals may still contain animal ingredients. For those interested in using strictly vegan products, Vegan Beauty Review offers a list of 100 percent vegan beauty brands.
Labeling is becoming more important, Beckner says. "The demand for vegan and cruelty-free products is growing as people become more organically aware of what they are putting on and in their bodies."
The bunnies will thank you, too.