As we age, our risk of falling increases, and if an aging person does fall, his or her injuries are often serious. Protect your loved one by taking some precautionary measures. See our Fall-Proofing for Aging Adults infographic below for tips on creating a safer living space for your loved one.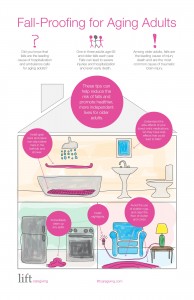 Click here to see enlarged image.
Keep Your Loved One Safe
Falls are the number one cause of injury, brain trauma and even death in older adults.
Do a safety audit and make changes to keep your loved one safe.
For more information on fall prevention and creating a safe home click here.
Lift Caregiving is a resource for family caregivers offering articles, resources and tools to help caregivers.