The patios have been swept, the lights have been strung and alfresco dining is back for the warmer seasons. From the candlelight dinner for two overlooking a bustling creek to the concealed porch featuring live music, pull up a chair at one of these great outdoor dining locations in Hampton Roads.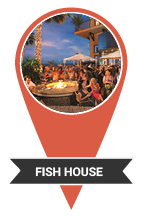 Catch 31
3001 Atlantic Ave.
Virginia Beach, Virginia
757.213.3474
catch31.com
Soak in the view at Catch 31, which has an open-air kitchen with 
a hardwood fire grill and over 15 varieties of only the freshest fish. 
Be sure to stop at the raw bar for a shellfish appetizer. The bright blue 
walls add a tropical feel, as do the signature cocktails. Relax next to 
the fire pits and stay for the live entertainment at Neptune's Park.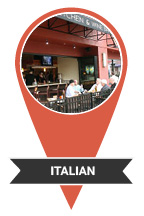 Travinia Italian Kitchen & Wine Bar
11810 Fountain Way, Suite A
Newport News, Virginia
757.599.1777
traviniaitaliankitchen.com
Snag a spot by the one of the roiling fire pits or grab a posh cushion on the couch and enjoy Fountain Way's street corner while enjoying panko-encrusted Zucchini Fritte. Wine lovers will appreciate private tasting rooms and unique dinners, featuring hand-picked wines paired with rich entrées from the kitchen. Relax under the lamplight and order Cioppino Almafi, gluten-free shrimp, scallops, mussels, cod or clams saturated in a spicy lobster broth. Finish with a warm baked Apple Crostata. Lunch and dinner served daily.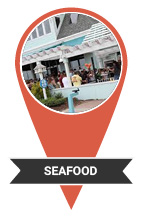 Waterman's Surfside Grille
415 Atlantic Ave.
Virginia Beach, Virginia
757.428.3644
watermans.com
Beach lovers rejoice. With its striking overlook of the Atlantic Ocean 
and a covered patio with ceiling fans to keep diners cool, Waterman's is the perfect place for a breezy afternoon lunch or lively late-night dinner. Enjoy The Originial Waterman's Orange Crush—a signature cocktail—and Chesapeake Bay Lump Crabcakes before slipping your toes into the sand. With events like karaoke and live music on the weekends, Waterman's brings enjoyment for all ages. Don't forget to end your night with the Key Lime Pie.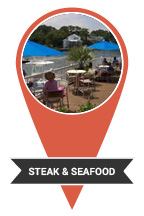 One Fish-Two Fish
2109 W. Great Neck Road
Virginia Beach, Virginia
757.496.4350
onefish-twofish.com
A popular steak and seafood restaurant in renowned Virginia Beach, One Fish-Two Fish offers a stellar view overlooking the water from not only on the patio, but also in the dining room—which showcases a panoramic view of the Long Bay Pointe Marina. Enjoy a light and flaky fried flounder while watching the sun dip below the horizon. After dinner, grab a Granny Smith Apple Cobbler smothered in caramel glaze on your way out.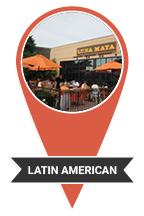 Luna Maya
2010 Colley Ave. and 21st St.
Norfolk, Virginia
757.622.6986
lunamayarestuarant.com
If you're looking for an authentic, fresh and natural restaurant with a large outdoor patio, then look no further than Luna Maya. Owners Karla and Vivian Montano follow family recipes and make their own sauces using real chili, spices and herbs. The outdoor patio is great for a large crowd, and it's spacious enough that you don't need to fear spilling your Don Eduardo on a stranger.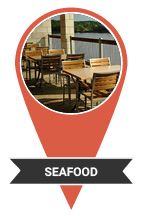 Amber Lantern
5532 Bainbridge Blvd.
Chesapeake, Virginia
757.227.3057
toprackmarina.com
Few things are better than enjoying a view of the Elizabeth River while snacking on French Baked Brie. This warm patio will give you chills, and you won't be able to look away from the striking view of the marina while savoring the Ahi Tuna while enjoying the company of good friends.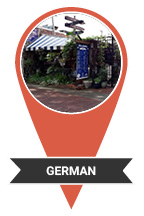 The Bier Garden
438 High St.
Portsmouth, Virginia
757.393.6022
biergarden.com
Family owned and operated since 1997, The Bier Garden is located on Historic High Street and offers an authentic Bavarian menu with a cozy feel. Sit under an umbrella on the back patio and adore the colors and scenery, which gives it an almost European feel. The Schnitzel Sandwich is not only fun to say but delicious to eat. All dishes are prepared from scratch using 
the Osfolk family recipes.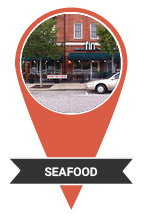 Fin Seafood
3150 William Styron Square
Newport News, Virginia
757.599.5800
finseafood.com
Featuring local ingredients and organic produce and proteins, Chef Kenny Sloane has created a rich and full menu from seasonal ingredients; from the Oyster Rockefeller paired with spinach and bacon to the Mahi & Head on Shrimp sautéed with roasted shallots and local pink eye peas to the Bison New York Strip, customers will appreciate the imaginative dishes under glowing lanterns and solid teak furniture. Fin's colorful menu is complemented 
by its expansive outdoor dining experience under 
a cozy awning. Heaters aid in extending the spring and fall dining seasons so diners can continue 
to enjoy observing the activities of Styron Square.