"Will ride for wine" is the mantra for members of the new Williamsburg Winery Cycling Club.
From March through November, cyclists can enjoy a scenic bike ride followed by a glass of wine and some grub at the winery.
"Cycling, like wine, brings people together," says Michael Kimball, assistant vice president of marketing for the Williamsburg Winery, who cofounded the club last fall. "It's a community. In modern day society, we spend so much time indoors under unnatural light, and cycling is a fun way to be active and get some much needed fresh air and sunlight."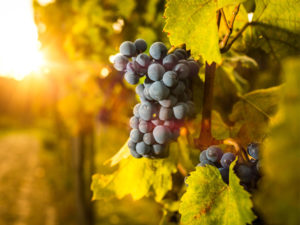 Kimball felt a cycling club at the winery would be a good fit because "one, there is wine and delicious food, which is fun and exciting. And two, the winery is located just a mile from the Colonial Parkway and just over four miles from the Virginia Capital Trail, two premier cycling destinations in Coastal Virginia. The Club seemed like a great way to bring people together, make new friends and showcase the beautiful scenery of the Greater Williamsburg area."
The cycling club meets every Sunday morning for a bike ride. Members choose from three routes: a 40-mile ride averaging a pace of 16-19 miles per hour, a 25-mile ride averaging a pace of 14-15 mph, or a 20-mile ride averaging 11-13 mph. Roughly 50 cyclists turn out each week, mostly from the Williamsburg area and other cities on the Peninsula.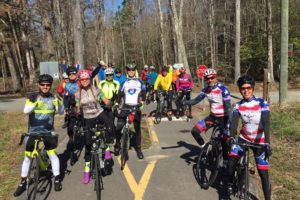 "Simply put, cycling is fun," says club member Corrina Ferguson. "It is such a fantastic way to stay in shape and explore and see new places. Cycling opens the doors to instant camaraderie and new friends. The cycling club at the Williamsburg Winery offers all those reasons, and anchors the ride with the opportunity to enjoy good food and wine. What could be better?"
Christina Wechsler agrees. She heard about the Williamsburg Winery Club through friends while running with the DoG Street Pub Running Club and decided to give it a try.
"What's not to love about spending a Sunday morning pedaling through the beautiful historic area with like-minded cycling enthusiasts?" Wechsler asks. "Finish it off with a delicious brunch and lively conversation with new friends on the patio of the Gabriel Archer Tavern. As a novice cyclist, this club is the right fit for me because of the different ride options. This allows cyclists to start off with an achievable goal and work up to the more challenging ride, or decide which ride suits their needs on that particular day."
The rides are free, and anyone can participate. Cyclists receive a voucher for 15 percent off at the tavern for the day of their ride with the opportunity of earning a T-shirt if they complete five rides within three months.
The goal of the Williamsburg Winery Club is to practice fitness while having a good time.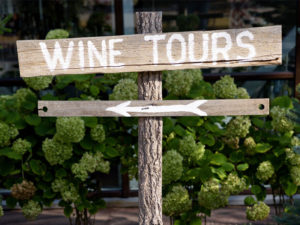 "Like wine, life is all about balance," Kimball says. "The Williamsburg Winery is a wine and culinary destination, but we also want to promote an active and balanced lifestyle. Our goal for the club is to have fun, bring people together, make new friends and show off the gorgeous Historic Triangle in a way that can only be experienced on a bike. We hope any and all people who are interested will come by and ride with us. The more the merrier."
In addition to the cycling club, Williamsburg Winery recently formed a partnership with yoga instructor Mary Robinson from Body Balance Studio for Yoga and Wine classes.