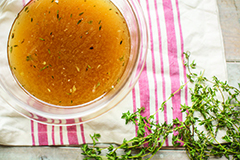 Vegetable Broth
2015-10-26 08:23:51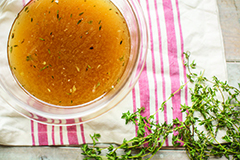 Serves 6
This vegetable broth sings with savory flavors. It comes together in a snap, and it can be made from leftover vegetable scraps from your cooking adventures.
Ingredients
2 medium onions, chopped leaving the skin intact
3 large carrots, peeled and chopped
2 ribs celery, chopped
1/4 cup parsley, chopped
2 thyme sprigs
2 cloves garlic, smashed
2 bay leaves
1/2 cup cherry tomatoes, whole
3 cups mushrooms, sliced
1 tablespoon black peppercorns
2 quarts water
Instructions
In a very large stock pot or slow cooker add chopped onions, chopped carrots, chopped celery, chopped parsley, thyme sprigs, smashed garlic, bay leaves, cherry tomatoes, sliced mushrooms, peppercorns and water.
Bring the pot to a boil over high heat, then reduce heat to medium-low to simmer covered for about 3-4 hours, longer if time permits. If using a crock-pot secure the lid and set to high for at least 3 hours.
Using tongs remove large pieces of vegetable and discard. Strain the broth through a fine-mesh strainer, or a large strainer lined with cheesecloth, into a smaller pot to cool for about 1 hour at room temperature. Transfer into large mason jars or resealable containers of choice. Refrigerate for one week or in the freezer for up to 6 months.
The Health Journal http://www.thehealthjournals.com/