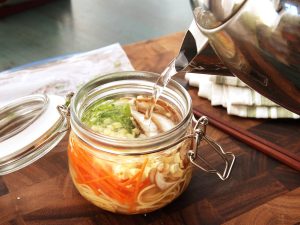 DIY Spicy Kimchi Beef Instant Noodles
2014-12-24 10:08:30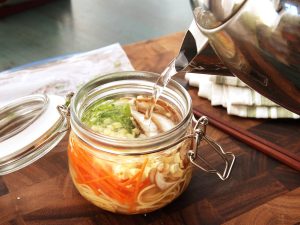 Make your co-workers jealous with this homemade lunch. All the convenience of a package of instant noodles, but with fresh ingredients and a bright flavor. Just add water!
Ingredients
4 tablespoons high quality beef base, such as Better than Bouillon
2 cups kimchi with juices
4 tablespoons chili-garlic sauce
4 oz beef jerky, cut into 1/2 inch squares
1 cup shiitake mushroom caps, thinly sliced
4 small nests rice noodles, or pre-cooked ramen or italian pasta
1 cup scallions, thinly sliced
6-8 ounces water, to boil
Additional Materials
4 resealable one-pint glass jars
4 zipper-lock bags
Instructions
Divide beef base, kimchi, chili-garlic sauce, mushrooms, beef and noodles between the jars.
Divide scallions between four zipper-lock bags and seal bags, making sure to squeeze out all the air. Tuck bags into jars and seal.
When ready to serve, remove scallion packets and add the boiling water to top of the jar. Seal jar and let sit for two minutes.
Open jar, stir in scallions and serve.
Make ahead of time and store in the fridge. The herbs will stay fresh for up to a week.
Adapted from The Food Lab
The Health Journal http://www.thehealthjournals.com/