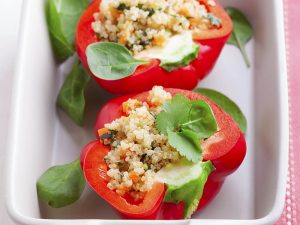 Quinoa-Stuffed Peppers
2015-07-24 12:01:06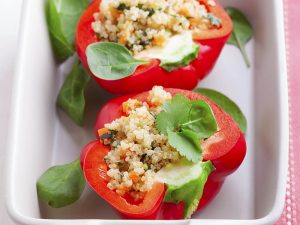 Serves 4
This recipe comes from Jill Weisenberger's first book, Diabetes Weight Loss--Week by Week, published by the American Diabetes Association. It can be purchased online at www.shopdiabetes.org or at any of your local bookstores.
Ingredients
4 bell peppers, use a variety of colors
1 tablespoon canola oil
1 cup yellow onion, chopped
6 baby bella mushrooms or other medium-sized mushrooms, sliced
1 10-ounce package cooked frozen spinach, thawed and squeezed of excess water
2 cups cooked red quinoa or other quinoa if you cannot find red
1 cup garbanzo beans
1 cup low-sodium pasta sauce, tomato basil or other favorite variety, divided
1/4 teaspoon black pepper
4 tablespoons shredded Parmesan cheese
Instructions
• Preheat oven to 400 F. Cut the peppers in half lengthwise and discard the seeds and membranes. Place peppers cut-side down, single-layer in a large microwave-safe casserole dish or plate. Cover with a lid or wax paper. Microwave on high for 5 minutes to soften the peppers. Remove the peppers and dry the casserole dish and return the peppers to it or move the peppers to a fresh oven-safe pan.
• Meanwhile heat the oil in a skillet over medium-high heat and sauté the onions for 5 minutes. Then add the mushrooms and sauté until the vegetables are soft. Lower the heat if necessary to prevent scorching. Remove the pan from the heat, and add the spinach. Mix. Then add the cooked quinoa, garbanzo beans, 1/2-cup pasta sauce, and black pepper.
• Fill each half pepper with 1/8 quinoa mixture and top with the remaining pasta sauce.
• Cover. Bake for 20 minutes. Remove the cover and sprinkle evenly with the Parmesan cheese. Broil 2–3 minutes or until the cheese is melted.
The Health Journal http://www.thehealthjournals.com/