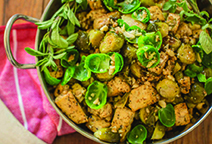 Oven Roasted Tofu and Brussels Sprouts with Balsamic Glaze
2015-10-26 09:36:06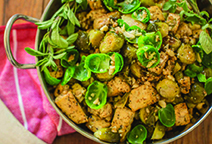 Serves 4
Slow roasting Italian-herb infused tofu draws out its flavors and creates a firm, toothsome texture. Balsamic vinegar adds a rich, sweet, tangy flavor. Serve with roasted Brussels sprouts for an easy and robustly flavored dinner.
Ingredients
3 cups Brussels sprouts, cut in half
1 pound extra firm Italian tofu, cubed
2 1/2 tablespoons olive oil
2 tablespoons balsamic vinegar
salt, to taste
black pepper, to taste
4 garlic cloves, minced
1/2 cup walnuts, chopped
1 pound chicken breasts (optional)
Instructions
PREPARE THE TOFU
Drain the liquid from the package of tofu and cut the block into 5 slices. Lay a paper towel on a cookie sheet, then spread the slices of tofu out with another paper towel on top.
Lay another cookie sheet on top and weight it down with some heavy cookbooks (or a cast iron skillet works great). Leave it to sit for 30 minutes to drain the excess liquid from the tofu.
Cut the slices into 1/2 inch cubes.
PREPARE THE BRUSSELS SPROUTS
Preheat oven to 400 F.
Cut sprouts in half, reserve any loose leaves, and rinse the halved Brussels sprouts.
ASSEMBLE & COOK
Toss tofu cubes and Brussels sprouts in balsamic vinegar, 4/5 of the olive oil, salt, pepper and minced garlic.
On a foil-covered baking sheet, evenly distribute the mixture and bake for 30 minutes. About 15 minutes into cooking, drizzle the remaining olive oil on the mixture, add chopped walnuts and toss.
Throw reserved Brussels sprout leaves into boiling water for 1 minute.
Garnish dish with the Brussels sprout leaves, and a drizzle of balsamic vinegar.
The Health Journal http://www.thehealthjournals.com/