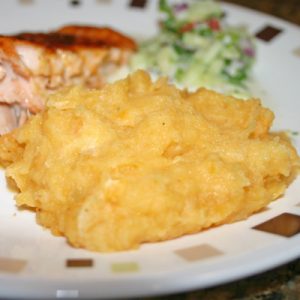 Mashed Potatoes and More
2013-05-18 09:24:52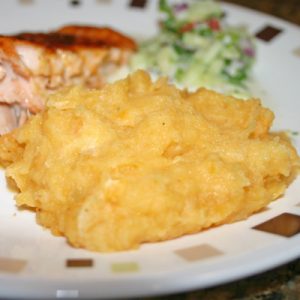 Serves 4
This recipe uses root veggies mashed up with the usual mashed potatoes to create a more rustic, flavorful and nutrition-packed side dish. Keep some of the skins of the potatoes for more texture and added nutrition.
Ingredients
4-5 Cloves garlic, peeled
1 tsp olive oil
4 medium sized or 5 smaller yukon gold potatoes, peeled about 80 percent and cut into 1 inch cubes
2 sweet potatoes, peeled and cut into 1 inch cubes
2 turnips peeled and cut into 1 inch cubes
1/4 cup milk, more if desired to make thinner
1 Tablespoon of softened or melted butter
1/3 cup sour cream
salt and pepper to taste
Instructions
Heat over to 375. Place garlic cloves in a small packet of foil with a drizzle of olive oil. Bake for about 25 minutes or until very soft. While garlic is roasting, boil potatoes, sweet potatoes, and turnips in a large pot of water for about 20-25 minutes until softened. Drain and return to pot. Add in remaining ingredients and mash with a potato masher until soft and well incorporated, but still leaving a few lumps for texture.
Notes
Potatoes tend to be high in pesticide residue. Try buying organic potatoes, which tend to be cheaper if you buy them in the bulk bags.
Adapted from The Dr. Yum Project
The Health Journal http://www.thehealthjournals.com/