Annual Chefs Auction Returns to Williamsburg
Something savory is coming to Williamsburg, Virginia, on Sunday, November 1.
The March of Dimes 2015 Signature Chefs Auction will take place at Doubletree by Hilton and will feature fine food from local celebrity chefs, wine and an auction to support and benefit the March of Dimes.
The March of Dimes is a non-profit organization that was founded in 1938 by President Franklin Roosevelt to combat polio and has since been known for promoting the general health of pregnant women and their babies. The March of Dimes' mission was to develop a vaccine for polio and to make sure the vaccine was made available worldwide.
"We are also the only non-profit to reach their mission," says 
Nicole Burn, senior community director for the Virginia March of Dimes Chapter.
Burn, who previously worked for Reader's Digest as the regional 
sales manager in its fundraising division, has been with the March of Dimes since March of 2010. She believes the Chefs Auction is a way 
for the community to not only support each other but also support 
the organization itself. Guests will have the opportunity to bid on 
wine, travel, entertainment, hotel stays and vacation getaways.
"The March of Dimes Signature Chefs Auction is a premier culinary gala," says Burn, "and guests get to enjoy signature dishes from local award-winning chefs. There is also a judging competition as well as an established panel, and it's wonderful to see your local chefs competing."
There will also be a silent auction that will offer one-of-a-kind packages put together by your favorite chef and includes private 
parties, wine dinners and spa days paired with dinners.
"100 percent of the money raised supports our mission of giving every child a healthy start in life," says Burn.
The participating chefs include Chef Nelson Miller of Silt, Chef Tim Westby-Gibson of Prime 46Forty, Chef Frank Lang of Great Wolf Lodge, Chef Mark Florimonte of Fords Colony Country Club, Chef Aaron Guzik of Opus 9, Chef Richard Carr of Berret's Seafood & Taphouse Grill, Chef Kelvin Moore of Doubletree by Hilton, Chef Kyle Fowlkes of Embassy Suites Hotel & Conference Center, Chef Stephen Losee of William & Mary Catering and Chef Justin Addison of Colonial Williamsburg.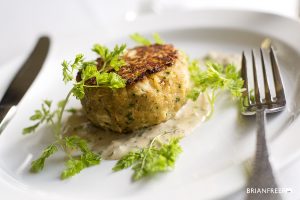 The chefs will compete for two awards during the event: the "Dish 
of the Colonial Peninsula" and the "Sustainable Organic Local" award.
The chefs are keeping quiet about their signature pieces, but guests can expect creative, culinary dishes.
"We've learned that when talented chefs compete, the sky is the limit," says Burn. "We've had dishes that feature scallops, fresh rockfish, prime beef and more. Their dessert dishes are tempting and beautiful and some of our chefs will create signature cocktails for sampling."
Burn created the Signature Chefs Auction in November of 2011. 
She was able to build a firm and reliable committee and has continued 
to have great relationships with the chefs who participate in the event. She says she loves working with her committee of talented business leaders in Williamsburg; they work together year-round to make this event special.
"The moment that truly 'brings it together' for me is when our local ambassadors speak," says Burn. "When they take the stage and share their stories, we are reminded that though we are enjoying an amazing night, we are raising funds so that every child is born healthy."
You can find out more about 
the participating chefs and the event at: hrsigchef.com