May 15-21 the Kingsmill Resort & Spa will welcome the most talented female golfers from around the globe to Williamsburg when it hosts the LPGA Kingsmill Championship. The River Course, designed by noted architect Pete Dye, is sure to challenge golfers and wow visitors with breathtaking views of the James River.
The 2017 LPGA Tour kicked off in the Bahamas in January, and will conclude in November in Naples, Florida. Along the way, the tour will take golfers around the world, including tournaments in Thailand, Singapore, Malaysia and Australia. The golfers will also see a good bit of the U.S., as they will be playing courses in Oregon, Indiana, Michigan, Arkansas and California.
The demands placed upon a professional athlete make life on the LPGA Tour a delicate balancing act. Practice, exercise and nutrition compete with the need for relaxation, family and a social life. How do athletes on the Tour find balance both on and off the course?
Brittany Altomare, 26, is deep into her first full year on the LPGA Tour. "I thrive on the competition and I'm energized by the week-to-week tournaments," she says. Although she enjoys the challenges each course brings, she says all the traveling is stressful, both physically and mentally. "Travel can wear you down," she says. "I still need to practice, but I don't want to overdo it. I need to focus on my game, but I also need to relax so I can prepare to play my best."
Naps are Altomare's favorite way to unwind after traveling. When she isn't catching some extra shut-eye, she's working out. "After a flight, my body feels especially tight, and exercise is a great way for me to relax," she says. This year she started working with a trainer in Tampa who introduced her to her new favorite move, the 90/90 exercise, which improves mobility in the hips. "I didn't start out liking it, I had to learn to like it," she says with a laugh. "It's a great exercise for when my hips get tight from travel."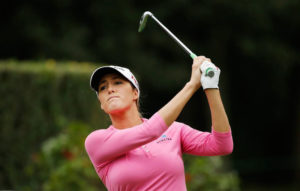 LPGA players can choose to stay in a hotel or with a host family. Altomare likes mixing it up, and has made many friends by staying in homes rather than hotels. She does her best to keep in touch with loved ones while on the tour and is always thrilled when her boyfriend is able to be there to cheer her on. "It's hard for us to be apart," says Altomare. "But I have such a supportive boyfriend, and I really couldn't ask for anyone better." Altomare's parents also turn out to see her play when they have the chance, and last year Altomare brought a piece of home with her when her sister caddied for her.
Golf requires intense concentration, and Altomare begins every day with visualization exercises. "To get started, I go over the holes in my mind," she says. "I put together a plan of attack by taking into consideration factors such as wind and weather conditions. I also study the pin sheet and my yardage book."
Taking part in the tour has given Altomare the chance to play golf on some of the best courses in the world. It has also given her the opportunity to see breathtaking sights. "Last year I went to China, and I saw the Great Wall," she says. "It was incredible."
Jaye Marie Green, 23, is in her fourth year on the Tour. She turned pro right after high school and says she still had a lot to learn. "I learned on the LPGA Tour what most people would learn in college," she says. "I went from being a teenager to a professional athlete. It was a huge curve ball."
Time management was one of the skills Green had to learn, and now she uses that skill every day. "I didn't have a schedule before, but now I do and I stick to it," she says. "I make time for getting to the course, working out and relaxing."
Home cooking is what Green misses most while on the Tour. "I get so homesick when I think about my mom's pasta," she says, laughing. "During my rookie year I was crying just thinking about it." Green tries to stay in lodgings that offer access to kitchens so she can cook her own meals to remind her of home.
Like Altomare, Green invited a sibling to caddy for her. "My brother and I are like best friends," she says. "I love having him travel with me." Technology keeps her connected to friends and family back home. "All my good friends are back home, and they are just a phone call or a Face Time away," she says.
Fitness is a huge part of Green's life, and has been from the time she was young. "I remember lifting weights with my dad when I was 13 years old," she says. These days she runs to help clear her mind. While on the Tour, she concentrates on keeping her hips strong.
"In golf, you have to work hard to be successful," she says. "From the game itself to travel and fitness, everything is hard. I need to work hard, and I love having to put so much effort into it."
To achieve the focus she needs to play her best, Green starts by powering down. "I turn off all my social media and I shut off all my apps for the afternoon," she says. "I want to be in the moment and focus on where I am and what I'm doing. Seeing flashes of images and words isn't good for your brain when you're on the course."
When the clubs are put away and the crowds have gone home for the day, Green turns to a good book to help her relax. "I used to hate reading, but when I started traveling a friend recommended it, so I gave it a try," she says. "Now I love books. I read everything from mysteries to love stories. Reading lets my mind drift somewhere else. When I read, I play well."
For more information on the Kingsmill Championship, or to purchase tickets, visit http://thekingsmillchampionship.com.