Follow in the footsteps of thunder lizards. Take a walk on the Dinosaur Discovery Trail at the Virginia Living Museum.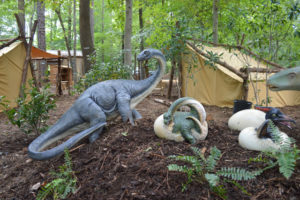 There's nothing like a nice stroll with the family to get your blood pumping and clear your senses. Why not throw in a little fun along the way? For more than 25 years, dinosaurs have been a popular summer exhibit at the Virginia Living Museum in Newport News. Originally a limited-time feature of the VLM's 50th anniversary celebration last October, the dinosaurs are now here to stay.
The permanent outdoor exhibit features 16 dinosaurs from the Jurassic and Cretaceous periods. They range in size from a mini Ankylosaurus to a 16-foot-tall Brachiosaurus. The trail also includes a Paleo camp, dig pits for amateur paleontologists and displays of dinosaur and Ice Age fossils, including an actual specimen from Hampton Roads.
"It's part of our natural heritage, knowing that there were dinosaur tracks found here in Virginia," says Judy Triska, marketing director for the Virginia Living Museum. "We now have a Dinosaur Trail that is a testament of our heritage and what is native to Virginia."
But the Dinosaur Discovery Trail is only one of the many interactive attractions awaiting you at the VLM. The Virginia Living Museum is home to more than 250 species of animals found in Virginia, including reptiles, mammals, birds and fish. The VLM also provides a sanctuary for orphaned, non-releasable and injured animals. In addition, the museum has one of the largest displays of native plants in the Commonwealth, with more than 450 native-to-Virginia species of plants.
There's also a 71-seat planetarium that offers a fully digital simulation of the night sky. From the comfort of the theater's seats you can visit the planets, travel to a black hole, observe spinning galaxies or study Earth from space.
"Our mission is to connect people with the natural world," Triska says. "We do that through our conservation efforts and by allowing people to come here to get a better idea of how everything is connected."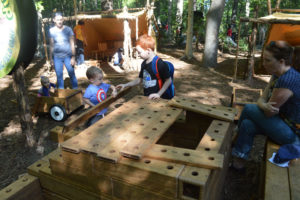 Indoor exhibits demonstrate how intricate and complex the different ecosystems in Virginia are, with an up-close look at how different species coexist. Virginia's Coastal Plain Gallery highlights what's below the surface of the Chesapeake Bay. Virginia's Piedmont and Mountains Gallery gives visitors "nose-to-nose" exposure to a variety of flying, crawling, swimming and climbing animals. Virginia's World of Darkness Gallery sheds some light on the things around us that we might not normally see. Virginia's Underground Gallery helps visitors journey back to the past by learning about the fossil remains right under our feet. Appalachian Cove and Cypress Swamp is a re-creation of vital and endangered wetland habitats. Four discovery centers provide a hands-on experience with specimens from the worlds of life science, space science and geology, plus a touch tank filled with all kinds of fun critters.
For those who would rather take it outside, the Outdoor Boardwalk is an elevated walkway winding three-fourths of a mile through the park grounds to give visitors a glimpse of animals in their native habitat. Keep a sharp eye out for red wolves—the most endangered animal in North America—otters, bald eagles, vultures, bobcats, deer, wild turkeys, skunks, opossums, red foxes and even coyotes. You can also walk through the Coastal Plain Aviary, filled with coastal birds such as pelicans, herons, egrets and ducks.
The Virginia Living Museum provides an opportunity for people of all ages to engage with nature and learn more about the part we all play in its survival.