The first few minutes of riding are the toughest, but as riders relax,
they gain confidence and realize they are not going to fall off.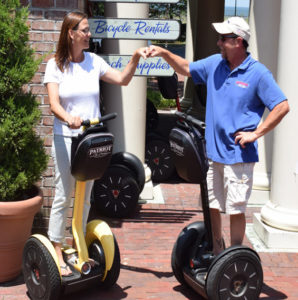 Whether you are a local or a tourist, have visited Yorktown a thousand times or just once, you haven't fully experienced it until you've taken a Patriot Tours Segway excursion. Owners Jill and Randy Pryor met in Oregon as whitewater raft guides in their early 20s. "That's where we learned to guide tours and share new experiences with guests," Jill says.
Jill earned a finance degree from Radford University and Randy studied criminal justice at Southern Oregon University. Today, the couple is raising daughters, Jalen (14) and Kiley (13), in Gloucester.
The Pryors opened Patriot Tours & Provisions, LLC at Riverwalk Landing in April 2010 after taking a Segway tour in Virginia Beach earlier in the year. In 2012, they became Segway PT certified level II technicians. They offer service and are an authorized Segway dealer.
"We thought it would be a great addition to the area," Jill says. Patriot Tours is open from March through December and offers off-season tours by appointment. Riders must be at least 14 years old and meet height and weight requirements. Tours may be booked online or by telephone.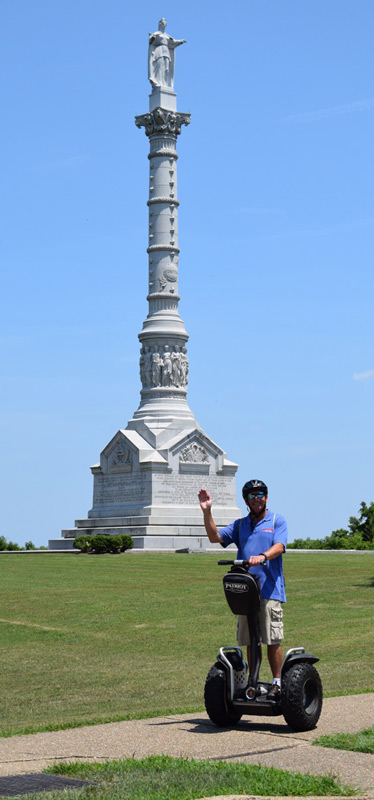 "Doing it ahead is smoother," Randy says of saving time on onsite pre-tour procedures. "Walk-ins are welcome, but may find upcoming tours are full."
Tours are limited to six or seven riders to ensure safety and individual attention for each guest. There is a brief safety video and hands-on training prior to riding.
Ricky Calvert, one of Patriot Tours' long-time guides, takes a concentrated interest in the safety and enjoyment of each rider. "I'm getting the center of gravity between my feet and standing up straight and comfortable," Ricky tells his guests during a pre-ride demonstration. "This machine is just toes and heels."
Riders lean forward to drive the machine and lean back to stop. Handlebars dip side to side for steering. The first few minutes of riding are the toughest, but as riders relax, they gain confidence and realize they are not going to fall off. The vehicle has a maximum speed for added safety.
"Some people are afraid of riding the Segway and think it's hard. It's not," Jill says. "When you ride as much as we do you build muscle, too."
Patriot Tours offers a one-hour tour focused on riding, sight-seeing and brief bits of area history. The two-hour tour covers the waterfront, historic village and provides in-depth history of the Revolutionary War and Yorktown from Colonial days to present.
Riders also travel through secluded alleyways and other little-known locations. Guides point out the courthouse, Grace Episcopal Church and other historic locations in the village. Riders see things walking tourists cannot from their elevated vantage point.
Patriot Tours hosts corporate events and are always looking for new tour routes and places of interest guests would enjoy. Four years ago, they expanded to off-road, nature-oriented, reservation-only Segway tours at York County's New Quarter Park and Kingsmill Resort.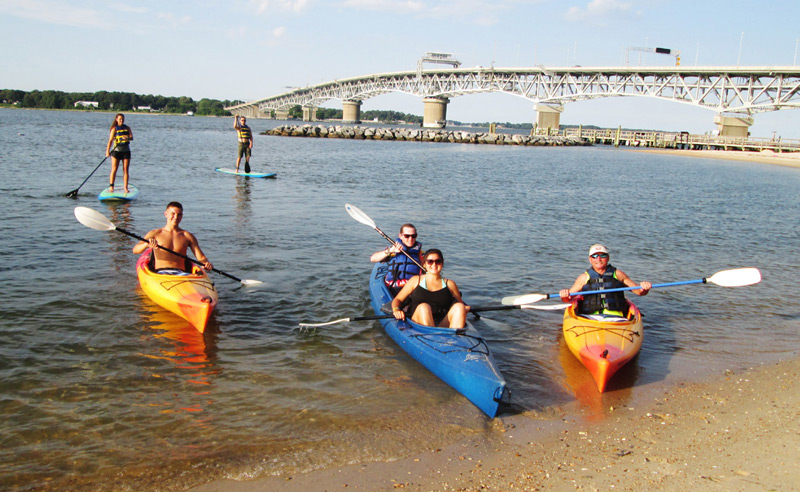 Yorktown's Patriot Tours also rents bikes, kites and paddle boards on a one-to-two-hour basis. Bicyclists can ride along the waterfront, through town or on battlefield roads. Kayaks and paddle boards launch from the adjacent Waterman's Museum pier. Their retail shop offers kites, spinners, garden flags, apparel, souvenirs, beach towels, umbrellas and chairs for purchase or rent.
In August, Patriot Tours started Segway tours at Fort Monroe from their new shop in the old firehouse outside the main fort.
When Jill and Randy travel, they look for Segway tours in other locales.
"We have guests that do that and come back to tell us about them," Jill says. "I've seen grandparents and teen grandchildren enjoying tours together as well as couples taking anniversary tours."
Randy and Jill want to provide new, exciting, outdoor and educational opportunities for locals and out-of-town visitors. "Our goal is to introduce the Segway to new guests and share the beautiful area and its history with returning and experienced riders," Jill says.
Want to go? 321 Water Street, Yorktown, VA, 757-969-4500 or 1 Rickman Road, Fort Monroe, VA, 757-969-4500