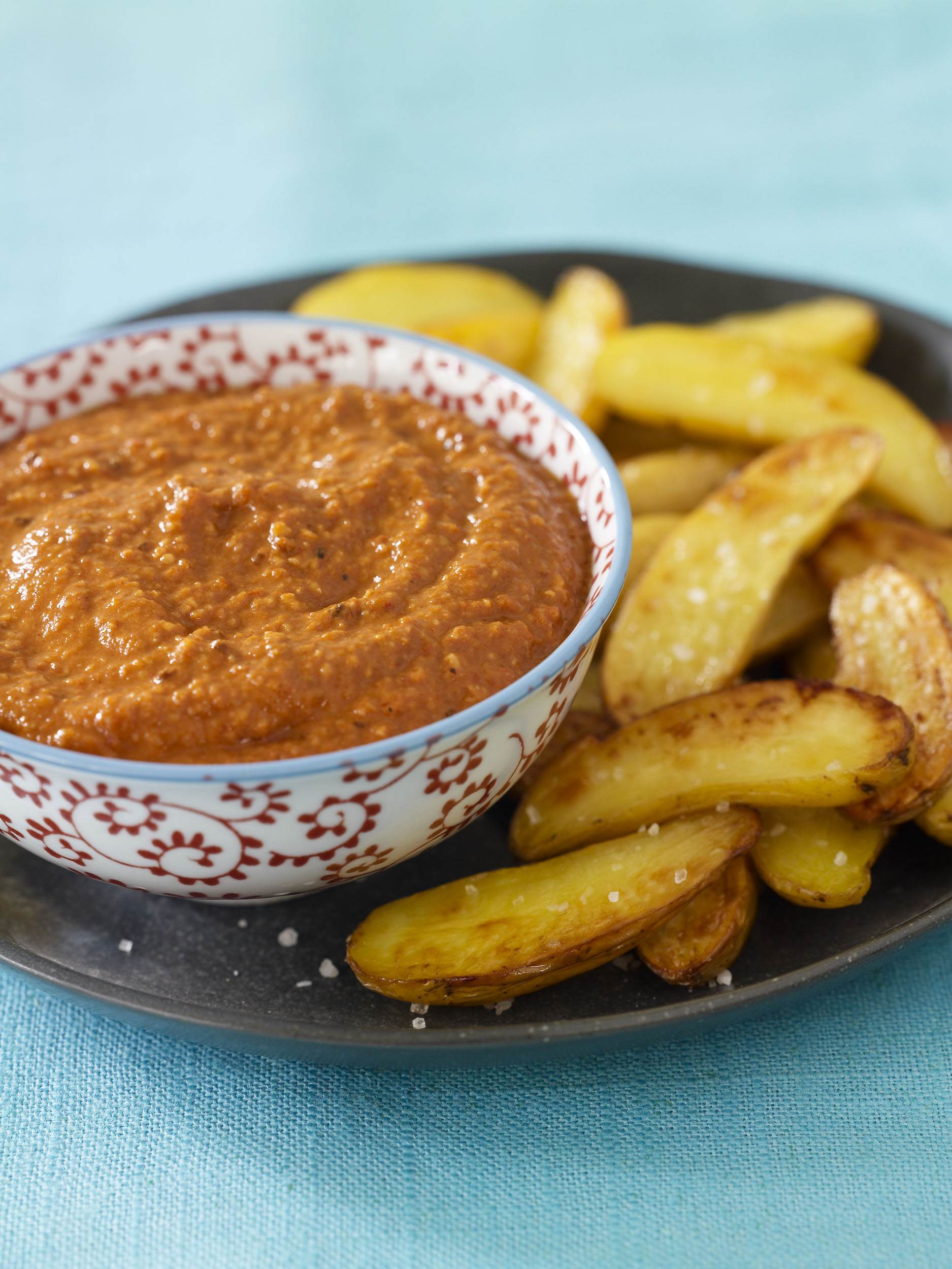 Light Romesco Spread
2015-01-30 13:47:51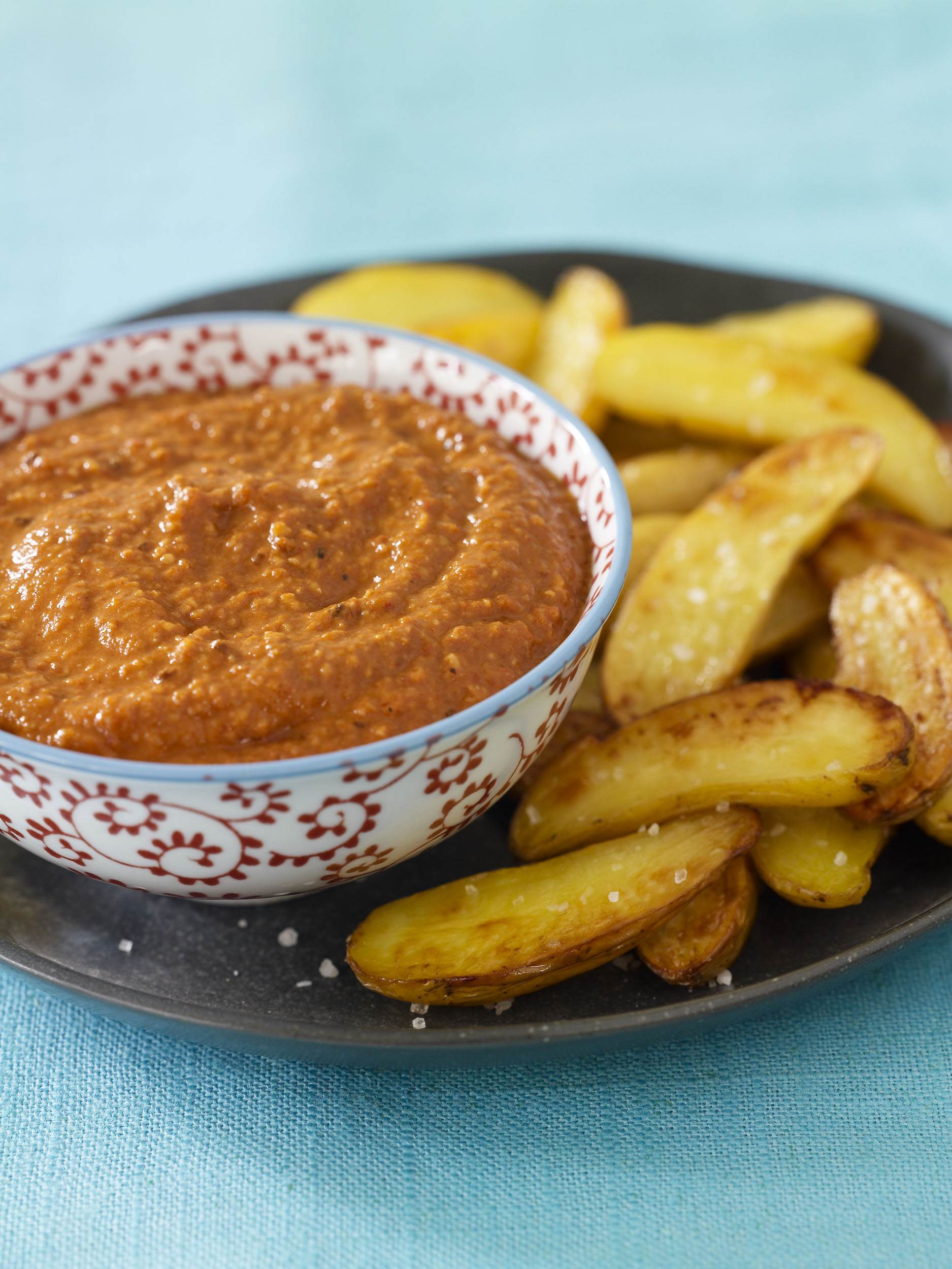 Roasted Garlic
1 head garlic
Olive oil
Kosher or sea salt
---
Light Romesco
2 medium ancho chiles (see Cook's Note)
4 large cloves garlic
1 large roasted red bell pepper/capsicum coarsely chopped
1 cup blanched almonds toasted
1 can (14.5 oz) diced tomatoes drained
2 tablespoon red wine vinegar
1 1/4 teaspoon kosher or 
sea salt
1 teaspoon pimentón (Spanish smoked paprika)
1/4 teaspoon sugar
1/8 teaspoon cayenne pepper
3 tablespoon extra-virgin olive oil
Roasted Garlic
• Preheat the oven to 375ºF/190°C/gas 5.
• Peel the loose, papery outer layers of skin off the head of garlic and trim any roots from the bottom. Cut off enough of the top of the garlic head to expose the cloves.
• Place the head of garlic on a sheet of foil large enough to completely enclose it, with a little extra foil left over. Drizzle with 1 teaspoon of olive oil and sprinkle with a little salt. Wrap the foil tightly around the bulb, twisting it closed at the top.
• Place on a small rimmed baking sheet/tray, and roast until the garlic feels soft when pierced with a knife, about 45 minutes.
• Open the foil package and bake until the garlic cloves begin to pop from their skins and brown, about 15 minutes longer.
• Remove from the oven and let cool. Squeeze the roasted garlic cloves from the skins.
• Store, tightly covered, in the refrigerator, for up to 3 weeks.
---
Light Romesco Spread
• Cook's Note: To prepare the ancho chiles, remove the stems and seeds, then soak the chiles in hot water to cover until softened, about 45 minutes. Drain well and tear into small pieces.
• In the workbowl of a food processor fitted with the metal blade, process the garlic until finely minced. Add the chiles, roasted pepper, almonds, tomatoes, vinegar, salt, pimentón, sugar and cayenne. Pulse until uniformly minced, scraping down the sides of the bowl once or twice. With the machine running, slowly add the olive oil and process just until combined. Taste and adjust the seasoning. (Feel free to add more cayenne if you desire a spicier sauce.) Transfer to a serving bowl, cover, and set aside for at least 1 hour to allow the flavors to meld.
Notes
• Skinny Dippers: Roasted Cauliflower, Poached Shrimp, Roasted Fingerling Potatoes, Crostini, Herbed Cheddar Cheese Straws
• Dip Do-ahead: This sauce keeps, tightly covered, in the refrigerator for up to 3 months. Remove from the refrigerator 45 minutes before serving. Serve at room temperature.
The Health Journal http://www.thehealthjournals.com/