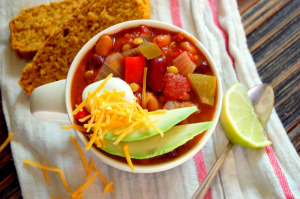 Hearty Lentil Chili
2014-12-29 09:45:50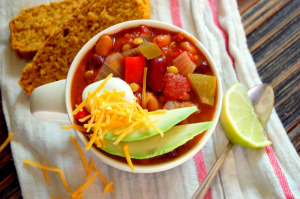 Warm up on a chilly day with this delicious vegan chili. Great after a long day or right before the big game!
Ingredients
1 cup green lentils
2 cups water
1 large sweet onion, chopped
1 jalapeno, with seeds removed and minced
2 red or green bell peppers, chopped
2 cans fire roasted tomatoes
1 can pinto beans, drained and rinsed
1 can dark red kidney beans, drained and rinsed
1 tablespoon cumin
1 cup medium salsa
Instructions
Chop onion and red/green peppers. Drain and rinse the pinto and dark red kidney beans. Remove the ribs and seeds from the jalapeno and mince.
Combine all ingredients in a slowcooker in the order listed, starting with the lentils.
Cook on high for 4 hours, or on low for 8-10 hours.Turn to low until ready to serve, or chill and freeze in portions.
Garnish with your favorite toppings and serve!
Notes
Garnishes: vegan sour cream, cilantro, fresh tomato, avocado
Adapted from Marisa Westbrook
The Health Journal http://www.thehealthjournals.com/