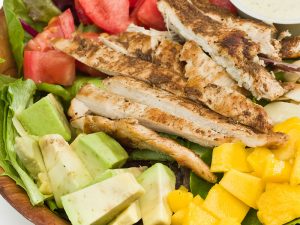 Grilled Jerk Chicken with Mango Salsa
2015-07-27 08:24:43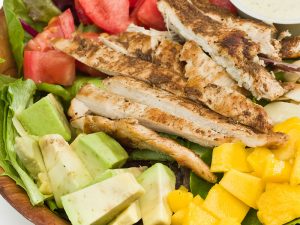 Serves 4
Enjoy this refreshing salad as a satisfying summer meal, topped with flavorful grilled jerk chicken, bright oranges and mangos.
Ingredients
• 4 small (4-6 oz.) boneless chicken breasts
• 1 red onion quartered and roasted
• 1 mango, peeled and julienne
• 2 oranges, peeled and cut into segments
• 2 small tomatoes, cut in wedges (8ths)
• 1 avocado, 1-inch diced
• 2 ounces chives, 1 inch long
• 1 ounce cilantro, chopped
• 1 clove of garlic , mashed
• Jerk seasoning
• Olive oil or red wine vinegar, to taste
• Salt and pepper
Instructions
• Marinate boneless chicken breast with jerk seasoning and a touch of olive oil in a plastic container; cover and refrigerate for 2-3 hours.
• Grill chicken breast evenly on both sides and finish in 325 F oven until an internal temperature of 150 F is reached.
• Chill and cut into strips to the desired size.
• Mix all other ingredients together and season to taste.
The Health Journal http://www.thehealthjournals.com/