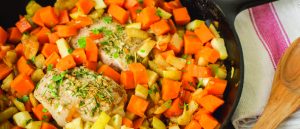 Fennel and Apple Braised Pork Chops
2015-10-26 08:32:10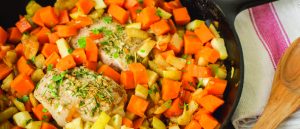 Serves 4
This comforting pork chop dish features an array of autumn ingredients, and requires only one pan! Sweet potato, apple, fennel and pork chops are doused in a delicious braising sauce.
Ingredients
3/4-1 pound pork chops
2 tablespoons avocado oil, or other oil of choice, divided
1 tablespoon rosemary, chopped
1 tablespoon basil, chopped
3 garlic cloves, minced
salt, to taste
freshly ground black pepper, to taste
2 cups apple cider or juice
1 large sweet potato, peeled and cut into small cubes
1/2 medium onion, diced
1 fennel bulb, chopped
1 medium-sized green apple, peeled, cored and cut into small cubes
Instructions
In a small bowl, stir together the basil, garlic powder, salt and pepper. Transfer 1 teaspoon of a large sealable plastic bag or container, add room temperature pork chops, oil, chopped rosemary, chopped basil, minced garlic, salt and black pepper. Let the pork marinate for at least 20 minutes.
Preheat the oven to 375 F.
While the pork is marinating, heat a large skillet over medium-high heat. Add apple juice or cider and cubed sweet potato. Let the sweet potatoes simmer uncovered for about 15 minutes, until the juice reduces by 2/3 and the potatoes are tender.
Pour the potatoes and remaining liquid into a bowl, and reserve to the side for a few minutes.
Using the same skillet, add the other half of the oil, diced onions and chopped fennel. Sauté for about 2-3 minutes until the onions start to become tender.
Push the vegetables to the edge of the skillet to make room for the pork in the center of the skillet. Add the pork chops and the marinade to the skillet. Sear each pork chop for about 1 minute on both sides until a browned crust begins to form. Stir the vegetables, if needed, while the pork is searing to avoid the vegetables from burning.
After both sides are quickly seared, immediately turn off the burner, add the reserved potatoes, juice and cubed apples into the skillet.
Immediately place the skillet into the oven on the middle rack to bake for about 15 minutes until an internal temperature of 145 F is reached, and the pork is barely pink the center.
Remove the pork chops to a serving plate to rest, and place the skillet with the vegetables and juices over high heat. Spoon the vegetables over the pork chops to serve.
The Health Journal http://www.thehealthjournals.com/