When Dr. Dennis C. Szurkus, Jr., Vice President of Medical Affairs at Sentara Williamsburg Regional Medical Center (SWRMC), was born prematurely, he spent several months in the Neonatal Intensive Care Unit (NICU). Hearing about his doctors' battle to help him survive, as well as his father's struggles to pay for his medical care, led Szurkus to pursue his own career in the medical field.
"It really inspired me and made me want to take care of other families and contribute to our health care system," Szurkus says.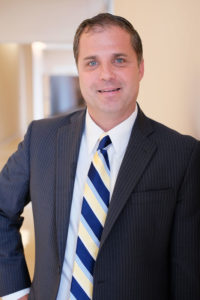 For years, Szurkus worked as an obstetrician and gynecologist (OB/GYN) while serving in the U.S. Navy. He traveled the world, delivering babies and taking care of women's health care needs.
"I always thought I would be a pediatrician, but I like surgery and working with my hands to solve problems for patients," Szurkus says. "Delivering my first baby was an exhilarating experience. I am also a positive person, so I appreciated the chance to congratulate people every day. I also enjoy having long-term doctor-patient relationships."
After his residency in San Diego, Szurkus honed his skills in Keflavik, Iceland, where he was the sole OB/GYN for a small hospital at the Naval base there. He often worked long hours, providing round-the-clock care to women, even occasionally driving them to and from the hospital and pharmacy to ensure all their medical needs were met.
"It was a very active role, and I learned a lot of things there that helped me in my job," he says. "It was a demanding year. I was performing clinical, administrative and leadership roles."
He later took on more responsibility as the MedTeams leader and Interim Department Head, while still performing surgeries and providing hands-on patient care in Rota, Spain. Szurkus then moved on to the Naval Hospital Pensacola in Florida, where he served as the OB/GYN Director of the Family Medicine Residency program. There, he taught other physicians how to deliver babies, as well as how to provide the best gynecological care for patients. He also sat on the Executive Committee of the Medical Staff.
Szurkus spent six months as Department Head of Gynecology at Camp Arifjan, Kuwait, during Operation Iraqi Freedom and Operation Enduring Freedom.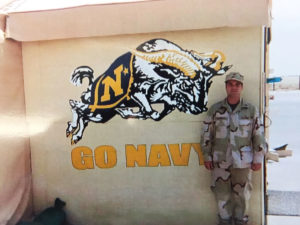 "The first night I got there, I had a patient with an ectopic pregnancy," recalls Szurkus. The hospital consisted of tents with no running water and Szurkus operated on his patients in a shipping container. Despite the conditions, "We were able to save her fallopian tubes," he says. Szurkus was awarded numerous honors for his work in the Navy, including the Navy Commendation Medal with three gold stars and the Navy Achievement Medal with a gold star.
Prior to arriving to Williamsburg, Virginia, Szurkus worked at Winnie Palmer Hospital for Women & Babies in Orlando, Florida, which has the second busiest OB/GYN unit in the country and delivers roughly 15,000 babies each year. Szurkus earned an MBA in Health Policy and Management from the University of Miami before joining Sentara. Though he does not provide direct patient care in his current role, Szurkus works with physicians and other hospital staff at SWRMC to ensure they have the tools and support to provide the best medical care possible.
"The quality of health care professionals at this hospital is astounding," he says. "Our physicians are dedicated to serving the community. I work collaboratively with our physicians, which in turn affects all the patients as a whole."
He's also recently been tapped as Executive Medical Director for Infection Prevention for the entire Sentara Healthcare system. In addition, Szurkus is a board member of the Lackey Free Clinic, has worked with the United Way of Greater Williamsburg, and was a contestant in this year's Dancing with the Williamsburg Stars to benefit Big Brothers Big Sisters of the Greater Virginia Peninsula and Literacy for Life at the Rita Welsh Adult Learning Center.
"We all go into medicine because we want to serve people and we want to have a positive impact on someone's health," Szurkus says. "Williamsburg is a great fit for my family and me."