Copper has been used for years in building construction, machinery, coinage and electronic product manufacturing, and now it is being used to eliminate harmful bacteria that lurk in local hospitals.
Sentara Healthcare System is leading the way in reducing the incidence of healthcare-associated infections (HAIs) through the incorporation of antimicrobial copper-infused hard and soft surface materials in all rooms used by patients. Sentara is partnering with two companies, EOS Surfaces in Norfolk, Va., and Richmond-based Cupron Inc., to equip patient rooms with copper-treated textiles including all linens and patient gowns, as well as hard surfaces that frequently harbor germs such as bed rails, bedside tables and countertops. EOS's Preventive Biocidal Surface products kill harmful bacteria within two hours of exposure to the material.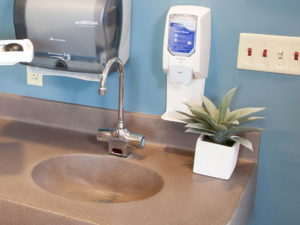 The switch to copper is based on a 10-month clinical trial conducted at Sentara Leigh Hospital in Norfolk. The trial, the world's largest clinical trial on the use of copper against HAIs, determined that hard surfaces and linens infused with copper oxide compounds contributed to an 83 percent reduction in the bacteria Clostridium difficile, and a 78 percent overall reduction in multidrug-resistant organisms.
Copper eliminates bacteria through ions that damage the cells of germs. When bacteria come into contact with these ions, the ions weaken the outer membrane of the bacteria through oxidation and eventually destroy the inside of the germ. "Our goal is to help hospitals achieve their patient safety objectives by complementing their existing efforts with these easy-to-implement products," says Jason L. Ellis, general manager of medical products for Cupron. Sentara Williamsburg Regional Medical Center (SWRMC) was the first hospital on the Peninsula to use the copper-infused products. Sentara's plan is to outfit all 12 of its hospitals with the materials by the end of spring.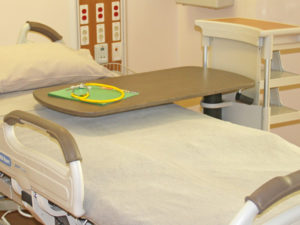 "Everyone is on board with anything we can do to reduce infections and the spread of germs," says Carolyn Ashley, director of Patient Care Services at SWRMC. "This is just another tactic we are putting in place to reduce infections." Response from patients, doctors, nurses and other staff members has been positive. Patients say the copper-infused sheets and pillowcases are more comfortable and the towels softer, with the distinct salmon color of the linens making them feel more at home.
"Doctors also see that this works, and they think it is great that Sentara is working toward helping our patients," says Don West, director of support operations at Sentara Healthcare. "There is a healing power with copper. It stops the bacteria growth. It really works, and it's great for our patients. At Sentara, we are working to improve health care every day.
Patient safety is our number one priority.