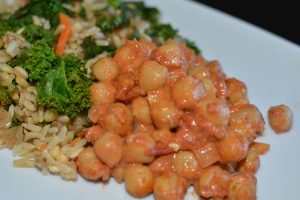 Chickpea Curry
2013-05-18 10:00:45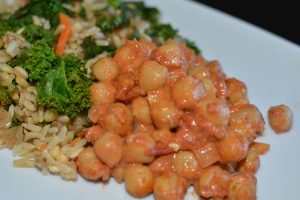 Serves 8
Chickpeas are a great source of protein and fiber, and a great meat substitute for a "meatless" nights. Without the saturated fat, hormones, and hefty price tag that meat can have, chickpeas can be a healthy and cheap way to start a meatless night tradition.
Ingredients
1 tablespoon vegetable oil (coconut oil preferred)
1 onion, chopped
4 cloves garlic, minced or crushed
1 inch ginger
1/2 tsp. salt
2 tsp. curry powder
1 dash of cinnamon
1/8 tsp. pepper
1/8-1/4 tsp. cayenne pepper (even less if your family is sensitive to spice)
14 oz. diced tomatoes
30 oz chickpeas (2 regular sized cans) drained and rinsed*
3 oz. coconut milk, canned or mixed from powder**
1 oz. water
1/4 cup cilantro (optional)
Instructions
Heat oil in a small wok or large saucepan on medium. Cook onions until soft—about 5 minutes. Add ginger and garlic, and cook 1-2 minutes until softened. Add salt, spices and diced tomatoes with juices. Heat and simmer another 1-2 minutes. Add chickpeas and cook for 2-3 minutes. Add coconut milk and water, and bring to a simmer for another 5-10 minutes. Add additional water to thin the broth as needed. Top with chopped cilantro, optional.
Notes
Chickpeas are a great source of protein for new eaters. Take some of plain chickpeas and warm coconut milk and run it through your mini food processor to make a smooth puree. For more advanced eaters take some of the chickpeas and sauce (spice with cayenne pepper for the rest of the family after taking baby's portion) and puree or smash with the back of fork until you get the desired consistency.
Adapted from The Dr Yum Project
The Health Journal http://www.thehealthjournals.com/