Makes 5-6 tacos
TACOS
Ingredients
6 eggs
1/4 red onion, diced
1 large handful of cilantro, chopped
3 green onions, chopped
1 to 2 medium avocados
cotija cheese
2-3 limes
6 corn tortillas
Directions
Scramble 6 eggs and cook to your liking.
Assemble tacos by adding a few spoonfuls of scrambled eggs onto each heated tortilla.
Garnish with red onion, green onion, avocado, cotija cheese, lime juice, cilantro and the creamy salsa verde.
Note: vary the ingredients according to your taste, spice tolerance and what's in the refrigerator.
CREAMY SALSA VERDE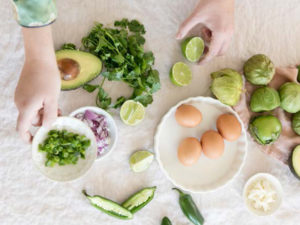 Ingredients
1 jalapeño
1/2 avocado
2 dollops of sour cream
1/2 yellow onion
5-6 tomatillos
3-4 teaspoons salt
1 small lime, juiced
Directions
Remove husk from tomatillos and wash thoroughly.
Cut into halves and place on a heated cast iron skillet on medium heat.
Peel and halve a yellow onion; also place on the cast iron.
Roast for about 5-10 minutes, turning over the ingredients occasionally.
Place the tomatillos and onion in a blender and add half an avocado, sour cream, 1 jalapeño (remove seeds according to how spicy you like it to be) salt and juice from small lime. Blend until smooth.
Keep the creamy salsa verde in the fridge to cool until ready to serve.
STORING & OTHER USES The salsa keeps well in the fridge for a week and can be used to top meats and veggies for other meals throughout the week!