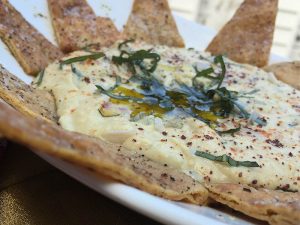 Artichoke Hummus
2015-07-24 11:57:51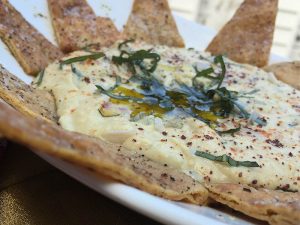 Serves 4
The creamy, nutty, earthy and slightly bitter taste is from the key ingredient—tahini. Tahini is ground sesame paste made from sesame seeds and is rich in heart-healthy monounsaturated fats.
Ingredients
14 ounce can of artichoke hearts rinsed and drained
15 ounce can of chickpeas rinsed and drained
2 tablespoons tahini
2 tablespoons fresh lemon juice
1 tablespoon fresh garlic, minced
1 tablespoon extra virgin olive oil
1/2 teaspoon cumin
1/2 teaspoon hot paprika or cayenne pepper
1 cup of fresh basil, chopped
Instructions
• Combine everything in a food processor except basil and pulse until smooth! Garnish top with basil.
• This goes great with warm pita bread or pita chips, on top of salads instead of meat, as a dip with raw veggies, in sandwiches and wraps. For a fun appetizer, fill hard boiled egg whites with this yummy hummus instead your traditional "deviled" egg filling!
Notes
• I personally love the brininess the juice from artichoke hearts lends, so I don't rinse them.
• Always hand cut basil. Kitchen shears would be ideal but a sharp knife will do.
• Let it run in the processor for a minute or two until it's smooth and fully combined.
• Lastly, drizzle just a little extra virgin olive oil over the top and a sprinkle of sea salt before serving!
The Health Journal http://www.thehealthjournals.com/